Click the Play button on the box below to view NACDD's most recent General Member Webinar. Scroll down to view previous webinars.
Each month, NACDD hosts a General Member Webinar — generally on the fourth Thursday of the month at 3 p.m. ET — for all Members and guests to gain knowledge and skills in one or more of the Chronic Disease Competency areas shown below: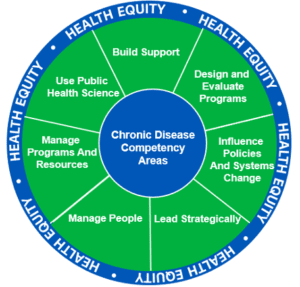 NACDD invites to these webinars national experts to share the most up-to-date knowledge as well as public health professionals working in health departments to share their real-world lessons in the topic area.
NACDD and the Centers for Disease Control and Prevention (CDC) have developed engaging, interactive conversation simulations with computer-animated virtual humans to help both providers and patients navigate difficult conversations about cancer screening, treatment, and survivorship. This webinar will feature a previously recorded video with speakers:
• Dr. Lisa Richardson, MD, MPH, Director of CDC's Division of Cancer Prevention and Control (DCPC)
• Gurnek Singh, MBA, Head of Product, Healthcare at Kognito
• John Patton, BA, Director of Public Affairs at the National Association of Chronic Disease Directors (NACDD)
• Zunera Mirza, MPH, Health Communications Specialist at NACDD
• Natasha McCoy, MPH (Moderator), Senior Public Health Consultant for NACDD
The speakers discuss Kognito's approach to developing innovative, digital health products using gamification software, a timeline of the CDC/NACDD cancer-related human simulations, a brief overview of the prostate cancer patient and provider simulations.
Read More »
What this webinar covers: This webinar was co-sponsored by NACDD and the Safe States Alliance and explores whether and in what ways the COVID-19 pandemic has been an adverse childhood
Read More »
https://vimeo.com/554293280 What this webinar covers: CHW roles during the COVID-19 response Strategies to leverage COVID-19 funding for sustainability (sustainable financing)  Strategies to advance CHW state recognition through workforce studies  Exploring
Read More »
View this Members' exclusive webinar, sponsored by NACDD's Racial Equity and Diversity Inclusion (REDI) Alliance. View more information about NACDD's health equity work.  View the 2021 NACDD President's Challenge to
Read More »