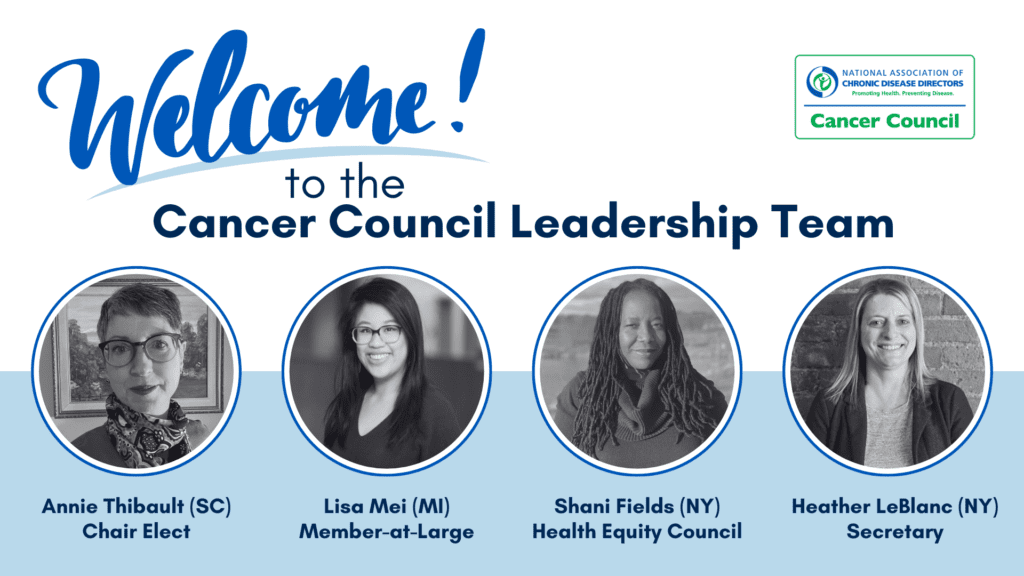 We are proud to welcome three new Members to NACDD's Cancer Council Leadership Team. Congratulations to Annie Thibault (South Carolina) for her election to the Chair Elect role, Lisa Mei (Michigan) for her election to the Member-at-Large role, and Shani Fields (New York) for her appointment to the Health Equity Council Liaison role. Additionally, we are happy to welcome back Heather LeBlanc (New York), who is serving as interim Secretary.
Each spring, Members of NACDD's Cancer Council vote to elect new leaders to promote communication and action between CDC, National Cancer Institute, and grantees, making it easier for grantees to fulfill grant requirements and achieve success. The Council's Leadership Team serves as a collective voice for all Cancer Council Members.
There are many ways for Cancer staff from states, tribes, territories, commonwealths, and academic institutions to become more involved with Council activities. If you're looking for a great way to build your resume, strengthen your leadership skills, and connect with peers from around the country, we strongly encourage you to consider any of the below opportunities.