NACDD, with funding support from the CDC Division of Nutrition, Physical Activity, and Obesity (DNPAO), will add at least 19 new interdisciplinary teams to its national Walkability Action Institute (WAI) Alumni Network in 2023 with the implementation of four related Active People, Healthy NationTM WAI events. These events include a 10-week national Walkability Virtual Academy (WVA), a four-day WAI in Baton Rouge, Louisiana, a hybrid WAI/WVA in Ann Arbor, Michigan, and a hybrid WAI/WVA in Spartanburg, South Carolina.
Participant teams from all four NACDD events will have received training from the nation's top experts and will have developed team action plans comprised of policy, system, and environmental (PSE) approaches for improved walkability, movability, and community and transportation design.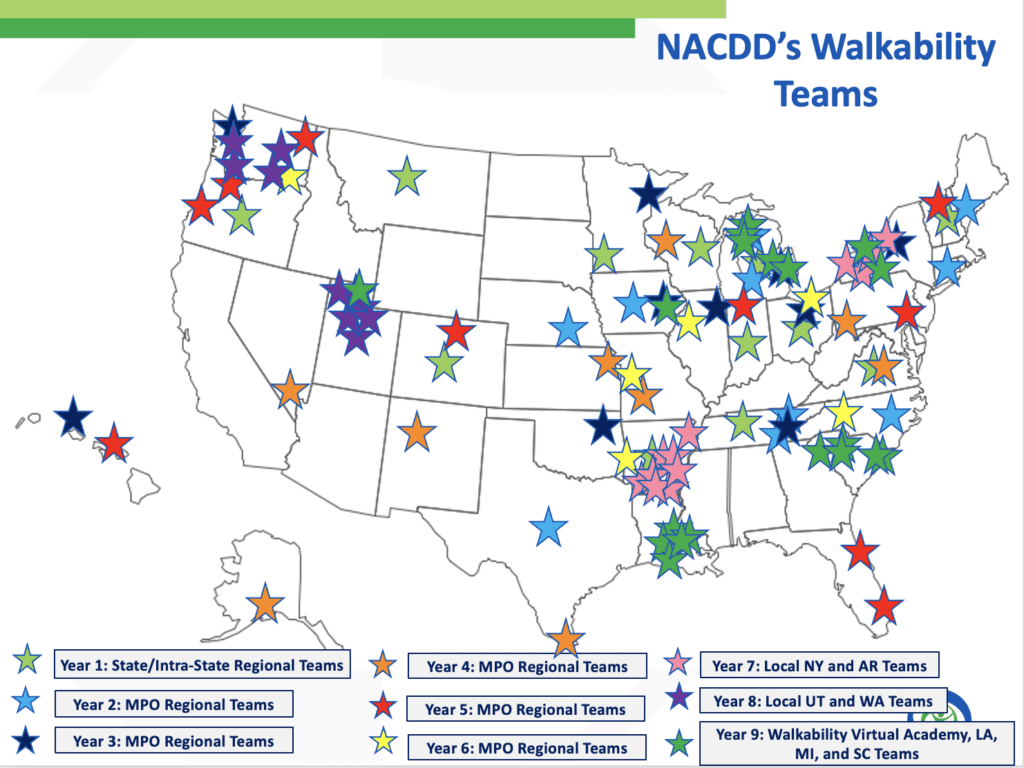 NACDD welcomes teams from the following WAI project locations:
National WVA (February 27-May 1, 2023, via Zoom):



Genesee County, New York
Linn County, Iowa
Nibley City, Utah
Schuyler County, New York

Louisiana WAI (April 25-28, 2023, in Baton Rouge, Louisiana):

Abbeville, Louisiana
Bunkie, Louisiana
Hammond, Louisiana
Sunset, Louisiana
Zachary, Louisiana

Michigan Hybrid WAI/WVA (WAI from May 9-10, 2023, in Ann Arbor Michigan; WVA May 25-June 13 via Zoom):

Kalkaska, Michigan
Kent County, Michigan
Muskegon, Michigan
Saginaw, Michigan

South Carolina Hybrid WAI/WVA (WAI from June 6-7, 2023, in Spartanburg, South Carolina; WVA June 19-29, 2023, via Zoom):

Anderson, South Carolina
Fairfield County/Winnsboro, South Carolina
Georgetown County, South Carolina
Spartanburg, South Carolina
West Columbia/Cayce, South Carolina
Williamsburg County, South Carolina
Now in its 9th project year, the WAI has become a marquee project of NACDD's Center for Advancing Healthy Communities after having provided training and technical assistance to 86 interdisciplinary teams from 34 states.
Participant teams not only learn about all things walkability, movability, and built design, but also discuss upstream factors like housing and transportation access, and explore related aspects of equity and social justice such as racial/ethnic equity, disability inclusion, preventing gentrification, and how to invest in locations that are traditionally disinvested. Additionally, participants get to engage in experiential learning activities during the course.
Experiential learning occurs through outdoor walk/move audits, scavenger hunts, and photovoice homework assignments, which allows participants to observe and "feel" the tenets being taught through course lecture in a real-life setting. One new participant summed up her course experience by saying:
"This was exceptional! You over-delivered and did not disappoint. This was the best learning experience that I have ever been to."