About the Walkability Action Institute 
NACDD believes all states and communities should be designed to support physical activity and non-motorized forms of transportation so that people can have the policy, system, and environmental (PSE) supports needed to engage in active lifestyles, whether recreationally or through essential daily functions like commuting to and from work, to community destinations, and/or places of interest (community events, schools, shopping, etc.).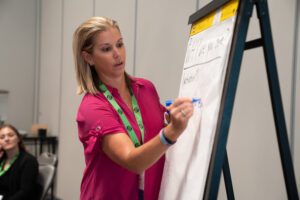 This vision would yield access and opportunity for active living through multiple community sectors, and could reduce the behavior of physical inactivity over the long-term, which is a main risk factor for chronic diseases and leading causes of death and debilitation like heart disease, stroke, hypertension, obesity, and type II diabetes. 
NACDD realizes that making states and communities more walkable is not just a public health problem; it involves public health counterparts including transportation, planning, education, elected officials, economic development, housing, transit, parks and recreation, and a variety of advocacy groups.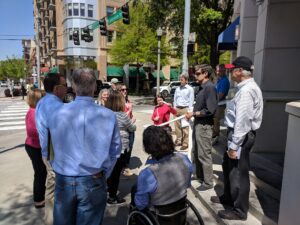 To this end, NACDD collaborates and receives financial support from the CDC Division of Nutrition Physical Activity and Obesity (DNPAO) to plan, implement, and evaluate a Walkability Action Institute (WAI) as a multi-day "course" for interdisciplinary teams. Each year, interdisciplinary four-to-six-member teams, comprised of public health, transportation, planning, elected officials, and other disciplines apply to receive travel assistance to attend the course, develop team action plans, and implement PSE outcomes to make their communities, regions, and states more walkable over the long term. The course combines traditional learning methods with robust  activities and outdoor learning.
NACDD tracks the outcomes achieved by alumni teams semi-annually and convenes ongoing Walkability Community of Practice groups bi-monthly.
Project Partners and Course Steering Committee Members
NACDD is proud to collaborate with the following project partners, organizations and/or Course Steering Committee members: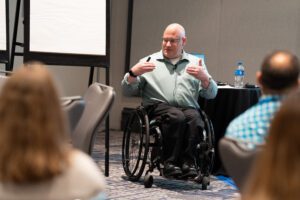 Project Participants
To date, NACDD implemented the WAI to a total of 41 interdisciplinary teams across four cohort years. Different from the inaugural year's focus on interdisciplinary state level teams, the focus for Years 2, 3, and 4 was interdisciplinary regional teams through the metropolitan planning organization (MPO), or regional equivalent. Below is the full list of NACDD WAI teams.