Advancing the Social Determinants of Health
The President's Challenge is a project that the NACDD Board President develops to focus NACDD Member competency in an emerging or innovative issue in chronic disease prevention. Established in 2016, previous President's Challenges have focused on promoting health equity, enhancing Member leadership capacity, and exploring the opportunities that a population health focus can offer to chronic disease prevention and control.
The President's Challenges have proven to be highly influential in public health, often leading the way for other organizations to consider and take on similar themes or topics in their own activities.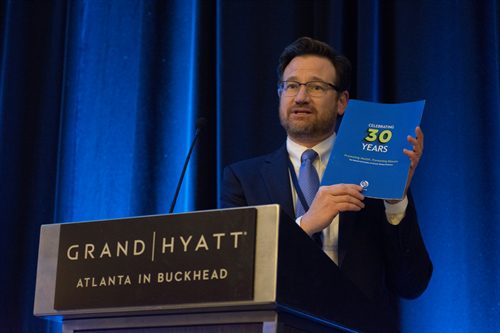 For the 2018-19 President's Challenge under Dr. Gabriel Kaplan's leadership, NACDD focused on taking chronic disease work further upstream in the disease continuum.
The Challenge demonstrated how public health can change the political, social, and economic causes for some communities' increased risk for chronic illnesses like diabetes, cancer, or heart disease. (Read the Press Release "NACDD Board President Dr. Gabriel Kaplan Launches National Challenge to Address the Social Determinants of Health.")
"It's hard to persuade someone to stop smoking if their time horizon is limited to putting food on the table this week, paying the gas bill this month, or making sure they can find a safe place to sleep tomorrow," said Dr. Kaplan. "NACDD can serve as a national leader to the public health community on the ways that we can address the social determinants of health in our work."
A centerpiece of his Challenge, Dr. Kaplan released a series of professional learning podcasts entitled, "Health: To Be Determined" sharing practical examples of how NACDD's Members can engage with a variety of non-traditional partners and industries to address the root causes of health disparities and chronic disease. (See an example of how Allegheny County, Pennsylvania is tackling Public Health 3.0.) 
Learn more about the 2018-19 President's Challenge:
Read Dr. Kaplan's article "Socially Determined: A Call to Action."
Listen to a podcast and review the PowerPoint from Dr. Kaplan's presentation on his President's Challenge during the 2019 Chronic Disease Academy.
NACDD Board President Dr. Gabriel Kaplan spoke at the Leavitt Partners annual Health Intelligence Partners conference on "Aligning Incentives: Innovations in Prevention and Primary Care." Review the slides from the panel discussion.