New York State Uses GIS and Maps to Expand Diabetes Prevention Programs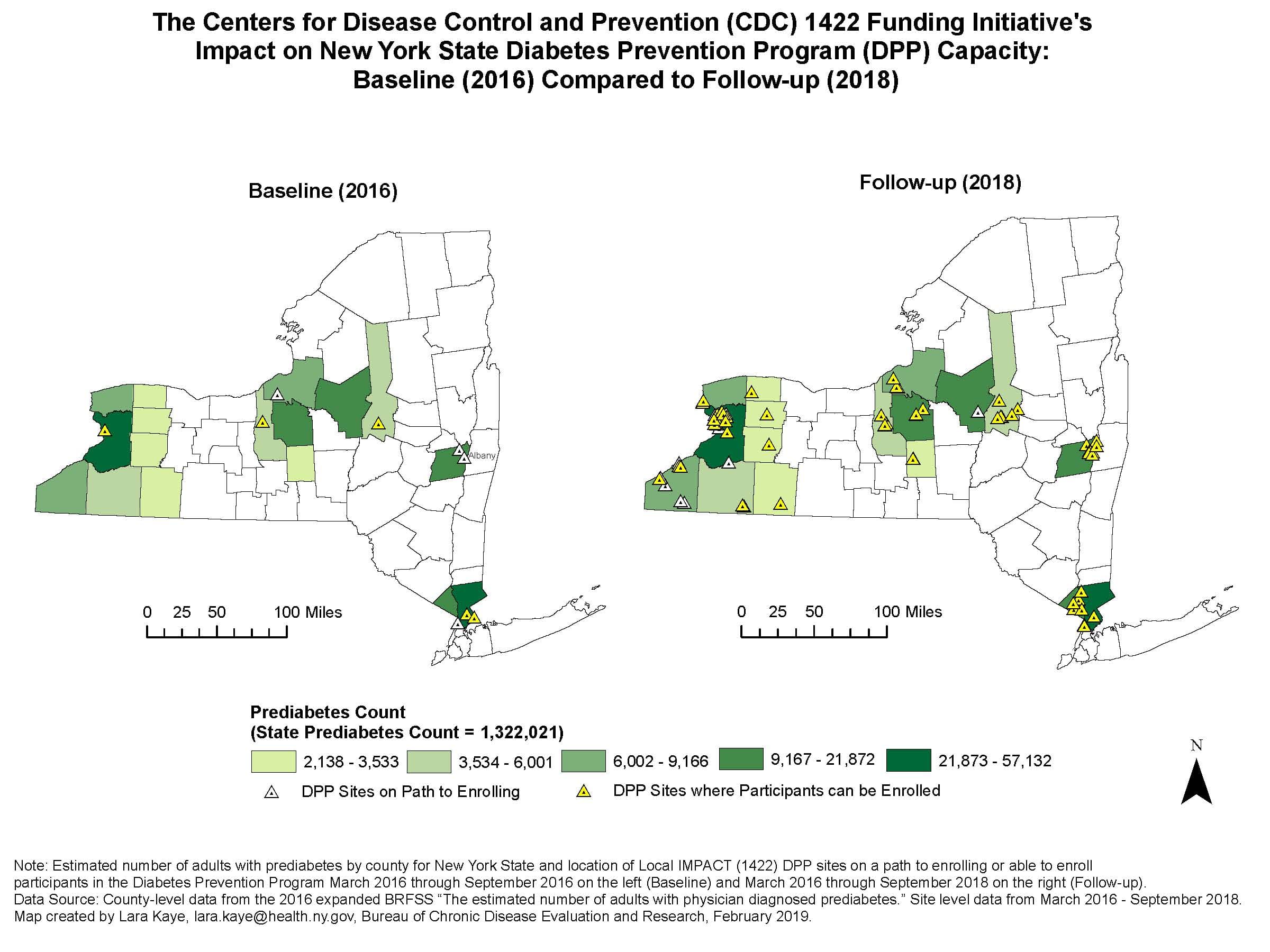 Submission Date: August 2019
State/Territory Submitted on the Behalf of: New York
States/Territories Involved: New York
Funding Source: CDC
CDC Funding:
Yes
Public Health Issue:
Prediabetes is a serious health condition where blood glucose levels are higher than normal, but not yet high enough to be diagnosed as type 2 diabetes.
According to the 2016 New York State Behavioral Risk Factor Surveillance System (BRFSS), an estimated 1.3 million adults in New York have been diagnosed with prediabetes. Approximately 230,000 New Yorkers with prediabetes live in 17 counties (outside of New York City) that have been identified as 'high-need counties' by the Local Initiatives for Multi-Sector Public Health Action (Local IMPACT) project.
The National Diabetes Prevention Program is an effective approach to making lifestyle changes to prevent or delay the onset of type 2 diabetes in people with prediabetes or those at high risk of developing diabetes.
Through Local IMPACT, the New York State Department of Health (NYSDOH) funded four partnerships to scale and sustain the Diabetes Prevention Program (DPP) by establishing new programs or enhancing participation in existing programs.
Implementing DPPs at sites in close proximity to concentrations of people with prediabetes removes one barrier to participation in and completion of the lifestyle change program.
Program Action:
NYSDOH staff working in chronic disease prevention have attended standard and advanced Geographic Information Systems (GIS) trainings offered through the CDC Division for Heart Disease and Stroke Prevention, National Association of Chronic Disease Directors and the Children's Environmental Health Initiative at Rice University.
NYSDOH leveraged GIS and maps to help staff and partners: 1) identify geographic disparities in the burden of disease, 2) enhance program planning, and 3) engage new partners to collaborate in implementing chronic disease prevention programs.
NYSDOH used data from its expanded BRFSS to estimate county-level prediabetes prevalence and site data from its performance monitoring system (Catalyst).
County-level maps displaying the burden of prediabetes along with the locations of Local Impact DPP sites enabled local partners to see where DPP sites were located relative to the populations with prediabetes and to identify geographic areas that would be best served by new DPP sites.
Impact/Accomplishments:
Ensuring programs are located in less populated rural areas throughout each county, and not only clustered in the larger metropolitan areas, is important to avoid gaps in services. Using GIS and maps to display critical program information increased the abilities of the state and Local IMPACT partners to understand and address the distribution of DPP sites.
Maps were also used to depict the number of DPP sites at the start and conclusion of the Local IMPACT project. Partnerships efforts to scale and sustain the DPP through the Local IMPACT project resulted in DPP sites in all 17 counties, including 11 counties that had not previously been engaged.
Partnership efforts to scale and sustain DPP through the Local IMPACT project resulted in collaborations with DPP sites in each of the 17 high-need counties.
Still, there are counties with high counts of prediabetes that need additional programs, and there is continued need to support programs in establishing systems to enroll participants.
The use of GIS and maps played an important role in the overall success of this initiative to expand and sustain the Diabetes Prevention Programs in New York State.
Program Areas:
Diabetes, Epidemiology and Surveillance
State Contact Information:
New York
Lara Kaye
New York State Department of Health
(518) 473-4469
lara.kaye@health.ny.gov
<< Back to All Success Stories