ATLANTA (June 28, 2022) — The National Association of Chronic Disease Directors (NACDD) is proud to release the applications for the Association's 2022 Impact Awards. Each year, Impact Awardees are nominated and selected by their peers in state and territorial chronic disease prevention and health promotion to acknowledge extraordinary achievements in their field.

Award nominations are due Monday, July 25, 2022, by 11:59 p.m. ET. Application forms are available online.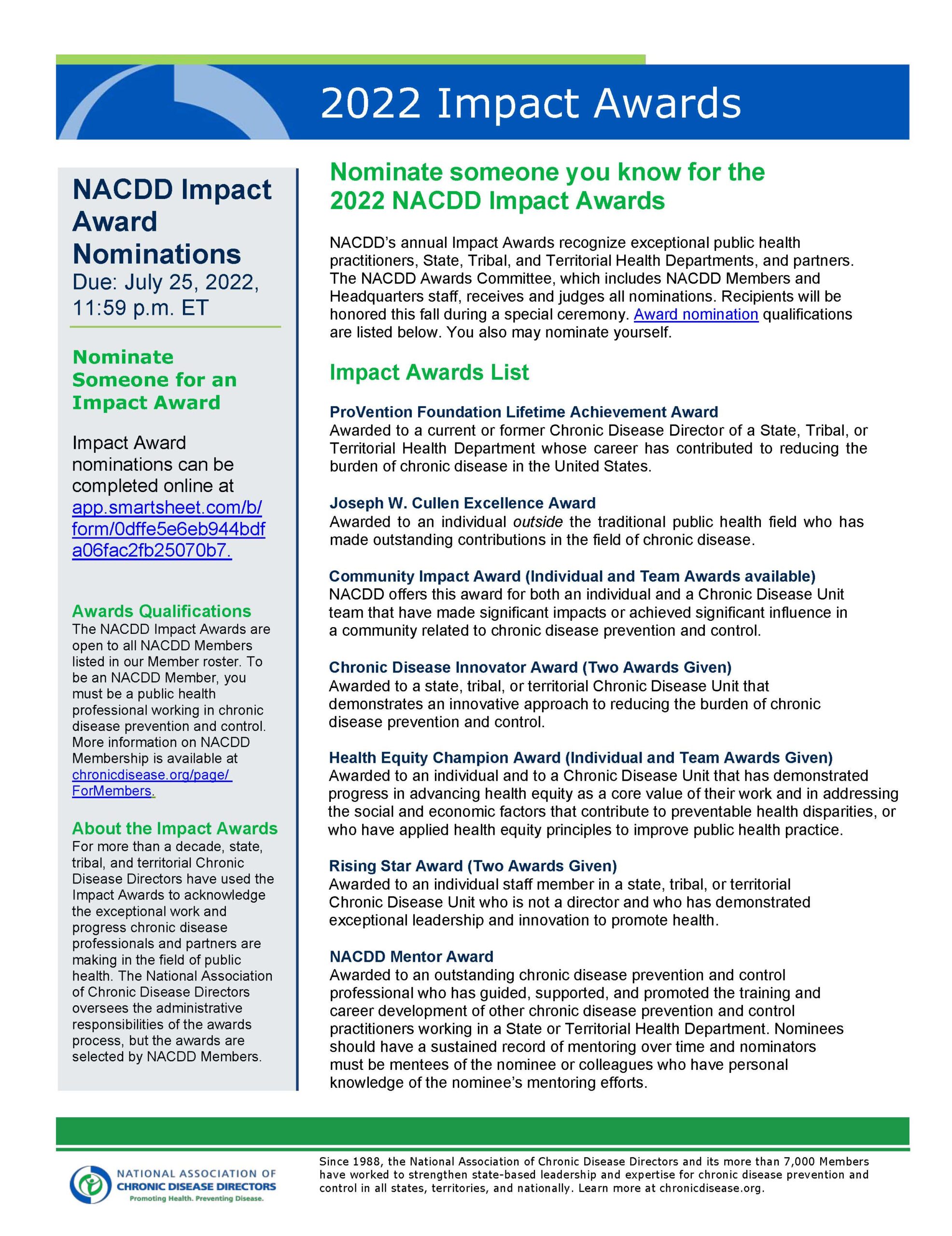 Read the Awards Fact Sheet.

"Chronic Disease Units across our country are the backbone in efforts to address the tremendous burden chronic diseases place on our communities, and we should take every opportunity to celebrate their achievements and to support them as they overcome significant challenges to improve lives," said NACDD CEO John W. Robitscher, MPH.

For more than a decade, state, tribal, and territorial Chronic Disease Directors have used the Impact Awards to acknowledge the exceptional work and progress chronic disease professionals and partners are making in the field of public health. NACDD oversees the administrative responsibilities of the awards process, but the awards are decided by NACDD Members.

"I am always humbled by all the great work going on in each of our states and territories, and the Impact Awards allows Chronic Disease Directors and their teams to acknowledge each other for the innovative and important work they are doing in public health," said NACDD Board Member and Awards Committee Chair Teresa Aseret-Manygoats.

Awardees must be an NACDD Member (listed in NACDD's Member roster) and may nominate themselves or be nominated by a peer or colleague. To be an NACDD Member, you must be a public health professional working in chronic disease prevention and control. More information on NACDD Membership is available at chronicdisease.org/page/ForMembers.
 
Recipients will be announced and honored in the fall during NACDD's annual Business Meeting (which will be held during the Chronic Disease Academy, Aug. 30-Sept. 1 in Chicago).
 
Last year we presented 12 Impact Awards, ranging from Rising Stars to Lifetime Achievement. Read more about the winners.