NACDD's Work@Health Program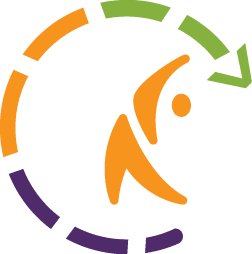 The Centers for Disease Control and Prevention's (CDC) Division of Population Health (DPH) funds NACDD to utilize CDC workplace health tools and resources, specifically the Work@Health program, to complement, amplify, and expand state-based efforts to engage employers in building effective, comprehensive, evidence-based workplace health programs.
Work@Health is an evidence-based program that trains employers to develop and implement health promotion strategies to reduce chronic disease and injury risk and improve productivity in the workplace. Work@Health also certifies Train-the-Trainers and Master Trainers to deliver the Work@Health curriculum and technical assistance to employers.
Goals of Work@Health:
Increase employers' level of knowledge and awareness of workplace health program concepts and principles
Increase the number of evidence-based workplace health programs, policies, and practices in place at participating employers' worksites
Promote peer-to-peer community-based employer cooperation and mentoring
Benefits to trainers:
Increased knowledge of comprehensive worksite health programming
Enhanced capacity and skills to deliver trainings
Opportunities to leverage existing chronic disease programs and expertise within the worksite
Access to technical assistance from NACDD and CDC, ongoing professional development, and a cadre of trainers for peer-to-peer support

Current Activities
Accomplishments
Success Stories
Resources
Current Activities
In collaboration with CDC, NACDD is:
Training and certifying health promotion professionals in the CDC Work@Health program using the Train-the-Trainer curriculum
Providing ongoing technical assistance to Work@Health trainers
Assisting participating employers in implementing evidence-based interventions based on results from the CDC Worksite Health ScoreCard and other assessments
Maintaining an interactive online course platform for employers and trainers to complete the Work@Health curriculum
Supporting the Work@Health Trainer Resource, Assistance, and Improvement Network (TRAIN) portal, which provides certified Work@Health Trainers with access to support from CDC and NACDD, peer-to-peer networking and learning opportunities, curriculum and training resources, and professional development opportunities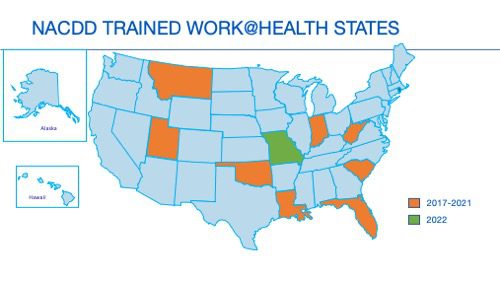 Accomplishments
Success Stories
Resources