Development of an Online Referral System for Diabetes Prevention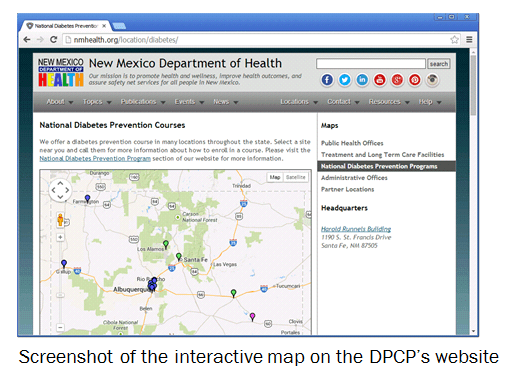 Submission Date: September 2014
Entry Type: Case Study
State/Territory Submitted on the Behalf of: New Mexico
States/Territories Involved: New Mexico
Funding Source: NACDD
Other Funding:
NACDD funding
Domain Addressed:
Community-Clinical Linkages
Public Health Issue:
86 million (more than 1 out of 3) American adults have prediabetes, and 9 out of 10 people with prediabetes do not know they have it. Without lifestyle changes to improve their health, 15 – 30% of people with prediabetes will develop type 2 diabetes within five years.
The Diabetes Prevention Program research study showed that making modest behavior changes helped participants lose 5 – 7% of their body weight and reduced the risk of developing type 2 diabetes by 58% in people with prediabetes.
Most people with prediabetes do not know they have it and that there is a program that can prevent or delay the onset of diabetes. Raising awareness of prediabetes risk factors and the National Diabetes Prevention Program's (National DPP) evidence-based lifestyle change program among people at risk for developing diabetes can promote increased used of the lifestyle change program.
Project Objectives:
To develop a referral system for the evidence-based lifestyle change program among selected delivery venues for use by consumers and selected providers
Program Action:
The DPCP worked with the New Mexico Department of Health Information Technology (NM DOH IT) and a contracted marketing agency to design a website to facilitate healthcare provider referral to the evidence-based lifestyle change program (http://nmhealth.org/about/phd/cdb/dpcp/ndpp/). The website features an interactive map and contact information for lifestyle change program providers. The website also contains information and resources for healthcare providers, including a prediabetes screening and treatment algorithm, a prediabetes screening test, and marketing and referral materials for the evidence-based lifestyle change program.
The website was created as a referral system for healthcare providers and individuals at risk for diabetes and has five sections: 1) Understanding Prediabetes, 2) Identifying People at Risk, 3) Referring Your Patients, 4) Enrolling in the Program, and 5) Learning More. The enrollment section features an interactive map with contact information for current lifestyle change program providers in New Mexico. Along with the map, the DPCP produced several informational documents about prediabetes and the evidence-based lifestyle change program, which are available in the "Understanding Diabetes" section of the website. A prediabetes screening and treatment algorithm developed by the Minnesota Department of Health as well as marketing materials and a prediabetes screening test from the CDC are also posted on the website. The DPCP plans to promote the website in areas where there are existing evidence-based lifestyle change program providers, particularly in Bernalillo and Santa Fe counties.
Prior to the contract, the DPCP organized a marketing retreat and asked stakeholders to discuss healthcare provider referral. The DPCP also attended a webinar series on the Patient-Centered Medical Home presented by the National Association of Chronic Disease Directors (NACDD) and the Consortium of Older Adult Wellness (COAW). This resulted in the DPCP contacting the New Mexico Primary Care Association (NMPCA) for advice about increasing referrals. Following the NMPCA's advice, the DPCP plans to work with Federally Qualified Health Centers (FQHCs) as a primary referral source and will continue to work with NMPCA to connect with the FQHCs. In addition, the DPCP followed up with COAW to explore technical assistance/consulting about building a referral system in health center organizations.
"The planned integrated referral process within New Mexico will allow participants to seamlessly move from one evidence-based program to another, e.g. the lifestyle change program or chronic disease self-management programs. Referring providers can encourage their patients to enter this self-care system to access any of these programs. Participants are encouraged to enroll to support their ongoing prevention and/or self-management goals."   -Catherine A. Offutt, National DPP Lifestyle Coach and Manage Your Chronic Disease (MyCD) Program Train-the-Trainer/Master Trainer
State Health Department Roles
Contracted with the marketing agency to seek input from relevant stakeholders and research existing models in developing a referral system
Worked with NM DOH IT and the contractor to design a website dedicated to prediabetes and the evidence-based lifestyle change program
Coordinated efforts among key partners to establish a referral system for evidence-based programs, including the lifestyle change program
Linked with New Mexico Health Care Takes On Diabetes to provide education and information for providers to refer patients
Partners
Cooney, Watson & Associates
New Mexico Department of Health – Information Technology
Evidence-based lifestyle change program providers
New Mexico Primary Care Association
Impact/Accomplishments:
1 Online referral system covering 2 counties
An estimated 220,854 adults with prediabetes live in the area covered by the referral system (Bernalillo and Santa Fe Counties)
18 Evidence-based lifestyle change program sites listed on the referral system
Challenges/Lessons Learned:
Factors Supporting Success
Dedicated Funding: $49,969
Experience working with a contractor and NM DOH IT to design a state website
Past collaboration with the New Mexico Primary Care Association and health center organizations on a health systems intervention
Secured support from NM DOH IT to facilitate contract approval
Contractor designed the DPCP's original website and was familiar with their program goals
Stakeholders who attended the marketing retreat discussed best ways to elicit referrals from healthcare providers
The NACDD/COAW webinar provided valuable information and ideas on how to develop and promote the referral system
Challenges & Solutions
Challenge: Contracting procedures took longer than expected which delayed referral system development
Solution: Divided the work between a referral system contractor and a marketing contractor in order to efficiently complete as much work as possible in the short amount of time remaining in the project
Challenge: NM DOH IT had a change in priorities which delayed work on the website
Solution: Secured support from within the NM DOH to escalate the referral system as a priority
Program Areas:
Diabetes
State Contact Information:
NM
Judith Gabriele
New Mexico Diabetes Prevention and Control Program
(505) 476-7613
judith.gabriele@state.nm.us
<< Back to All Success Stories