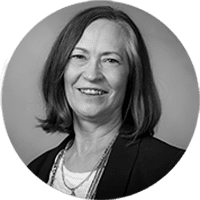 Paula Clayton, MS, RDN, LD
Cancer
Paula F. Clayton is a public health consultant with more than 25 years of experience building and directing the state chronic disease and health promotion program for the Kansas Department of Health and Environment.
She has served as a project lead on multiple federally and privately funded grants, building a program portfolio that funded statewide initiatives for the prevention and control of diabetes, heart disease, cancer, arthritis, obesity, injury, tobacco use, and promoting physical activity and healthful eating.
During her tenure as a state Chronic Disease Director, she served on the NACDD's Board of Directors, including two terms as Board President, and represented chronic disease interests as a member of the Senior Deputies Committee for the Association of State and Territorial Health Officials.
Paula also served on numerous workgroups facilitated by NACDD and CDC, such as the national Physical Activity Interest Group and the Obesity Prevention Workgroup. As part of these workgroups, she contributed to development of the framework for chronic disease program integration. Currently, her consulting projects focus on building state and national capacity for improving population health.
Paula holds a master's degree in Foods and Nutrition from Kansas State University. She is a registered dietitian, licensed to practice in Kansas.