The NACDD Health Equity Council works to increase public health workforce capacity to address health equity by advocating for supportive funding, identifying actionable strategies, highlighting promising practices, and making targeted recommendations that can improve organizational competency to address health equity. For example, the Council-developed tool, Moving to Institutional Equity: A Tool to Address Racial Equity for Public Health Practitioners, guides users through a process to identify internal policies and practices that influence the way racial equity is expressed in public health operations, projects, and decisions. A pilot project on its use is underway in five states.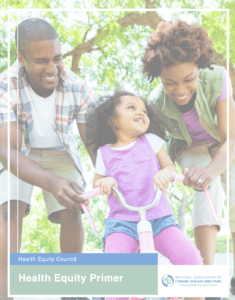 View the new Health Equity Primer.
The Council also developed the Health Equity Primer. The purpose of this primer is to provide the reader with action steps to begin or advance work in organizational health equity. This primer lays out a foundation of health equity through well-defined terminology, evidence-based theory, and historical context. Through case studies, the primer offers examples of how to begin or advance health equity work. The goal is to offer a deeper understanding of health equity and the processes by which to achieve it, thereby increasing the reader's confidence in pursuing health equity within an organization.