CONVERSATIONS ABOUT CANCER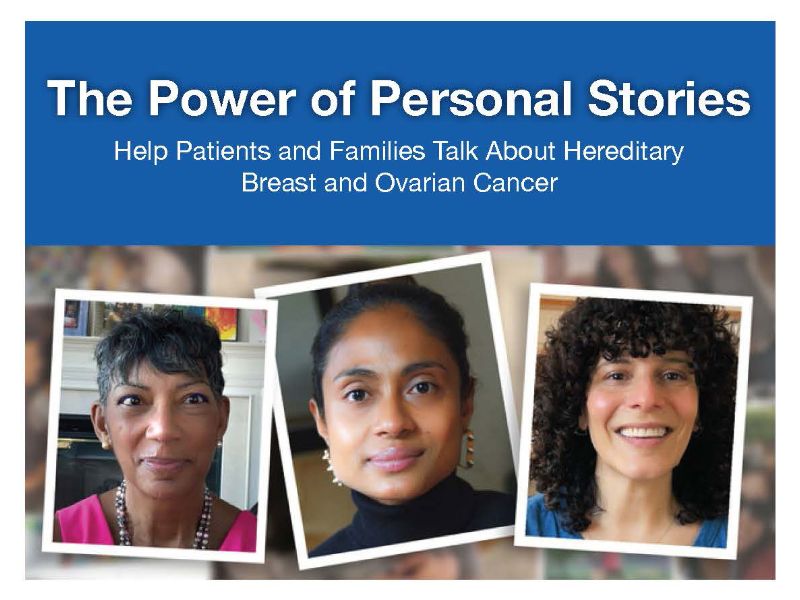 Breast cancer is the most common cancer in women in the United States. While breast cancer mostly occurs among older women, in rare cases breast cancer does affect women under the age of 45. Nine percent of all cases of breast cancer in the U.S. are reported in this age group. Risk for breast cancer among young women varies based on factors such as family and personal history of cancer.
The more patients know about their family's history of cancer, the better they can understand and address their risk. But conversations about health can be difficult.  Finding ways to make these conversations easier and more productive can improve the patient experience and health outcomes. That's why many healthcare practitioners are embracing storytelling as a tool for communication and connection. In partnership with the Centers for Disease Control and Prevention, NACDD has been creating and implementing a suite of digital resources to build health educators, leaders, practitioners and chronic disease staff's capacity to support family discussions on known or unknown family history of cancer and cancer prevention strategies.  
This page contains a number of resources that healthcare providers can use to help patients and families talk about hereditary breast and ovarian cancer. Providers will also benefit from viewing the materials – particularly the first-person stories – in order to improve their own understanding of why these conversations are hard for some patients and the need for sensitivity. 
Please watch and share with your patients.
Videos offering first-hand accounts of navigating difficult family conversations
Powerful first-person accounts from individuals who overcame fears, resistance, or other barriers to holding frank conversations with their families about hereditary cancer.
Allison describes the fear and uncertainty that accompanied her diagnosis of a BRCA gene mutation and how a trusted doctor helped her chart a clear path forward. 
As an oncologist, Dr. Alter treats patients with cancer of different varieties. He counsels patients with genetic predispositions for cancer by asking a series of questions to determine their family history.
Ashley shares how breast cancer attacked three generations of women in her family, and how her access to genetic testing at a young age gave her options they didn't have.
While most fathers and daughters bond over things like dancing or fishing or basketball, Vanessa and her father Arnaldo grew closer when they faced breast cancer treatment together.
Brianna was five years old when her mother died of breast cancer. In her teens, she learned how to navigate her own encounter with the disease, which meant accepting support from her boyfriend Larry during her preventative mastectomy.
Dana recounts a tough conversation with her daughter after being diagnosed with the same breast cancer that had already taken the five-year-old's grandmother.
As a neurosurgeon, Don knew everything in life and in surgery is all risk versus benefit. After discovering his family history of breast cancer, he took responsibility for his own health by getting tested and later having an elective mastectomy.
Eli describes the challenge of explaining her healthcare choices to her reluctant family after she tested positive for a BRCA gene mutation.
Erika recalls being diagnosed with a BRCA2 gene mutation when she was 29, single, and without children, and struggling to find other women she could relate to or connect with. 
Hannah describes how she went from feeling shocked by her diagnosis of hereditary cancer to feeling lucky today that this knowledge may have saved her life.
At 34 years old, Kenneth discovered he had breast cancer. It took an emotional toll on him, but he found strength by connecting with others.
Lauren shares how, even though her family had a long history with cancer, she was the first to push for a family dialogue and a proactive approach to testing and prevention.
Lexie – who at 11 years old lost her mother to breast cancer and learned about her mother's BRCA1 gene mutation – describes what it was like to reckon with her own risk at such a young age.
Ricki talks about the tendency of some black families to avoid talking about negative health issues, yet how their increased risk of breast cancer makes the conversation about family history all the more pressing.
As a Physician Assistant, Shira works with women at some of the most vulnerable moments of their lives when they are facing breast cancer. She points her patients in the right direction by encouraging them to meet with genetic counselors and take control over their own health.
Tallulah describes how, despite the overwhelming presence of cancer in her family history, it has been a slow journey to get other family members to get tested and take action. 
Videos with personal stories about how hereditary cancer has impacted lives and families
Explore these videos to hear how a diverse group of women approached difficult conversations about their family's history of cancer. Finding ways to make these conversations easier and more productive can improve the patient experience and health outcomes.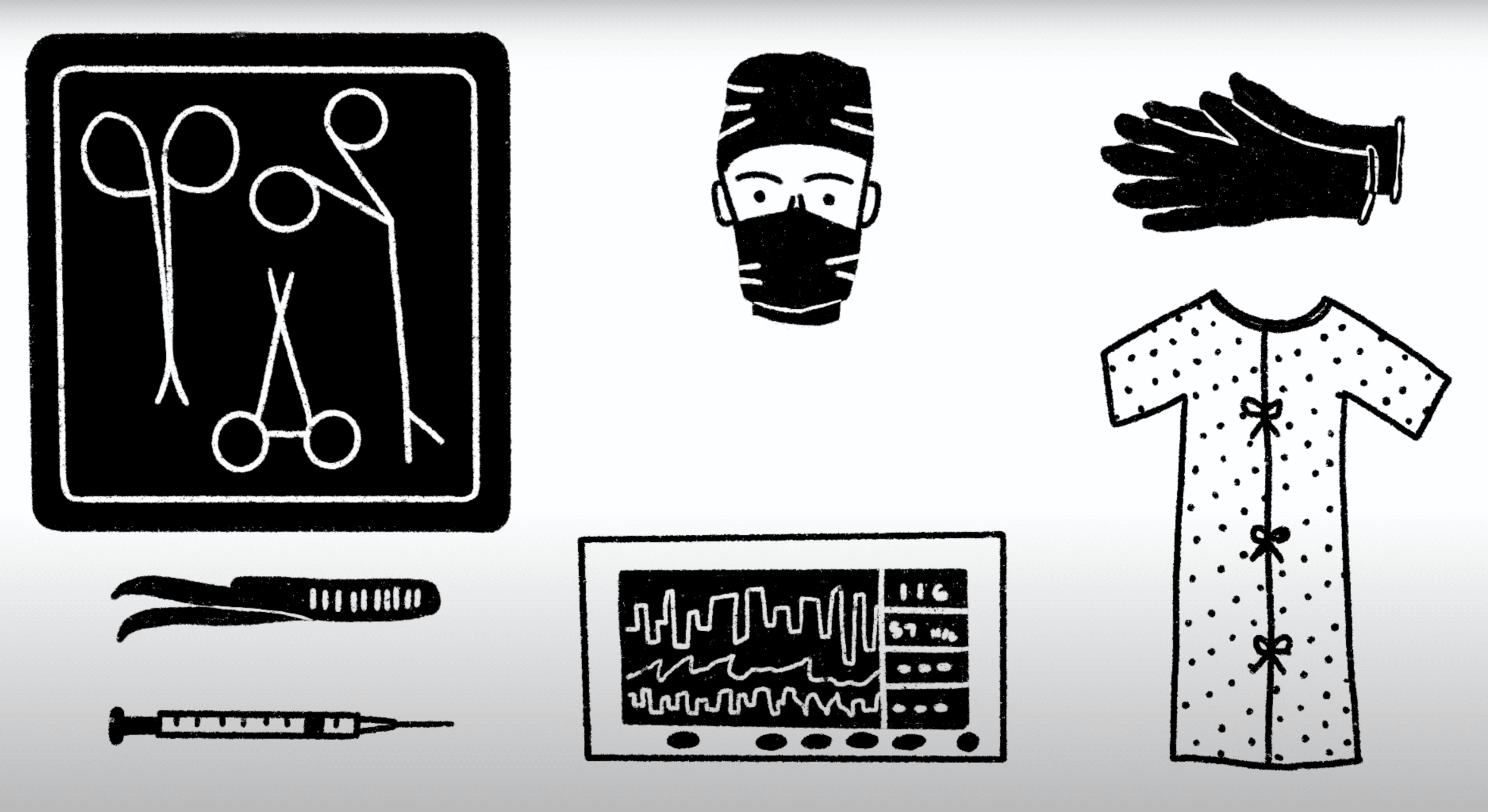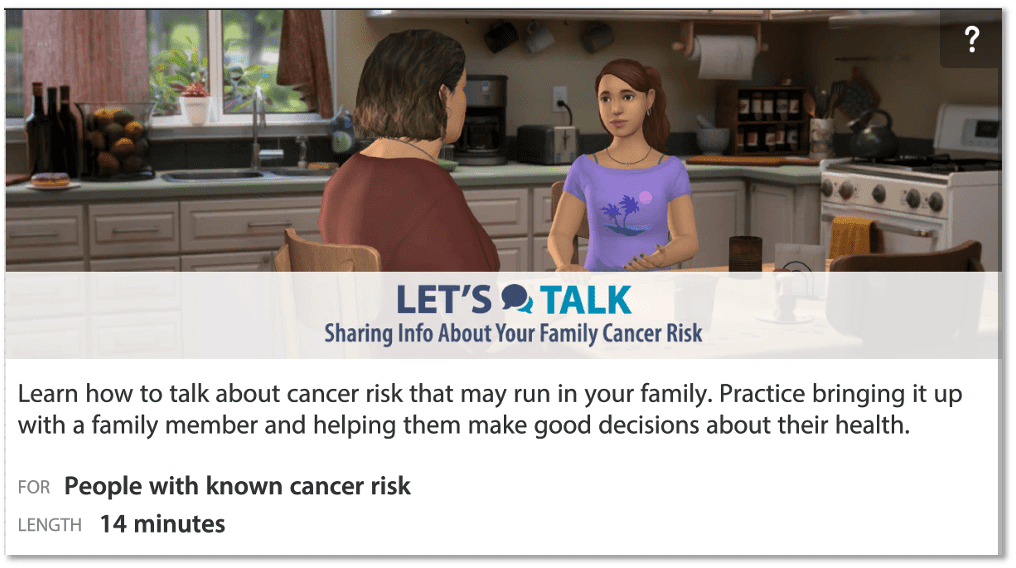 An online opportunity to practice talking about hereditary cancer before approaching family members. Users enter a virtual environment and engage in role-play conversations with emotionally responsive virtual humans.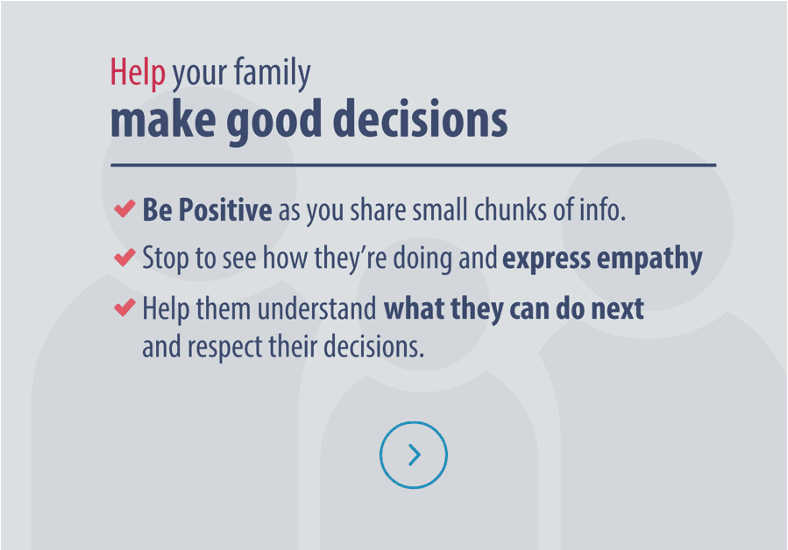 Materials to help promote storytelling resources
To help organizations promote these storytelling resources to healthcare practitioners, educators, and patients throughout their networks, we have provided a range of materials, which can be found in this Dropbox folder. The materials include:
Video
Watch this webinar on the power of personal stories to help patients and families talk about hereditary breast and ovarian cancer.
Blogs
These are authored by two experts from NACDD and can be used on your organization's own blog.
"Helping families talk about hereditary breast and ovarian cancer: The power of personal stories" is for use with a healthcare practitioner audience.
"Don't put off conversations about hereditary cancer: Knowing your risk is the best way to protect yourself and your family" is for use with a patient/general public audience.
Newsletter articles
These are shorter pieces that can be shared in your organization's print or digital newsletter.
"Get young women talking about hereditary cancer: Free multimedia resources available to make vital conversations easier" targets a healthcare practitioner audience.
"Do you know your risk of hereditary cancer? How one family conversation can save lives" targets a patient/family audience.
Social media posts
Posts are provided for Facebook, Twitter, and Instagram, including both copy and graphics.
All of these resources are available here.
Fact Sheets for Healthcare Providers and Patients
For healthcare providers:
Fact sheets on hereditary breast and ovarian cancer risk factors, assessment tools, genetic testing, and potential medical interventions for those who test positive for genetic markers.
Find the following materials to share with patients:
Talking with your family fact sheet explains hereditary breast and ovarian cancer; emphasizes the importance of learning about your family history of cancer; and provides tips on how best to approach these family conversations.
Letter to family members that patients who have tested positive for the BRAC1 or BRAC2 gene can use to let other family members know what the test results mean and why they should consider getting tested as well.

The "Helping Families Communicate About Hereditary Breast or Ovarian Cancer" project is supported by the Centers for Disease Control and Prevention of the U.S. Department of Health and Human Services (HHS) as part of a financial assistance award totaling $450,000 with 100 percent funded by CDC/HHS. The contents are those of the author(s) and do not necessarily represent the official views of, nor an endorsement, by CDC/HHS, or the U.S. Government.