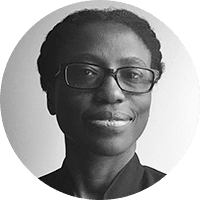 Lola Omolodun
MSPH
Program Portfolio Manager
Lola Omolodun is a Program Portfolio Manager for NACDD. She has more than 10 years of experience in the public health field, initially focusing on global health initiatives and then primarily focusing on addressing social determinants of health through community health programs.
She previously worked with the North Carolina Office of Rural Health as part of the community health grants team supporting efforts to increase access to primary and preventive services in rural and underserved populations. She also has worked with a regional planning agency in Boston on projects focused on improving the built environment, increasing access to healthy food options, supporting healthy aging, and establishing smoke-free housing policies.
Lola attended UNC at Chapel Hill, where she obtained a bachelor's degree in Exercise Science and a master's degree in Public Health.
She has one son in college studying filmmaking and a grumpy cat keeping her company. She also enjoys cooking, soapmaking, knitting, and sewing, as well as opportunities to volunteer in the community.
<< Back to Our Staff