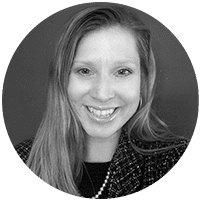 Kelly Durden
MA
Associate Director, Program Implementation
Kelly Durden has been in the non-profit public health sector for nearly 15 years, holding roles at the regional/state and national levels. Most recently, Kelly spent 11.5 years at the American Cancer Society, where her work spanned the cancer continuum, from early detection and screening to improving access to clinical trials and biomarker testing.  She most recently served as the Director of Lung Cancer Initiatives, in which she led several lung cancer projects that aimed to facilitate an increase in lung cancer screening rates, alleviate lung cancer stigma, and improve access to biomarker testing through clinical education. In prior roles, Kelly led the creation of both the Georgia Colorectal Cancer Roundtable (GCCRT) and the Georgia Lung Cancer Roundtable (GLCRT) and focused on working through state health systems to increase access to care, implement screening and prevention programs, and quality of care.
Prior to joining the American Cancer Society (ACS), Kelly served as the Program Manager at Family House, in Pittsburgh, Pennsylvania and as the Program Director for the Arthritis Foundation Western Pennsylvania Chapter. Kelly received her Master's Degree in Social and Public Policy with a concentration in Policy Analysis and Administration from Duquesne University in Pittsburgh.
A native to Pittsburgh, Kelly is an avid Pittsburgh Steelers fan. She presently lives in Atlanta with her husband, her very active six-year-old son, and two dachshunds. In her free time, she loves to spend time with her family, travel, read, cook, and exercise. 
<< Back to Our Staff