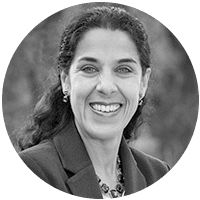 Anjali Deshpande
PhD, MPH
Anjali Deshpande, PhD, MPH, is a Clinical Associate Professor in the Department of Epidemiology at the University of Iowa College of Public Health in Iowa City, Iowa. Her areas of research interest include the development and evaluation of research networks (specifically in maternal and child health and rural cancer prevention and control) and public health workforce development. Dr. Deshpande teaches undergraduate and graduate level courses in epidemiology and public health.
In addition to training the future public health workforce, she is passionate about teaching current public health professionals, and has been part of NACDD's Evidence-Based Public Health (EBPH) training team since 2009. Dr. Deshpande has also developed a number of online training courses for using and communicating public health data in collaboration with the Iowa Department of Public Health (IDPH) and the Iowa Institute for Public Health Research and Policy at the University of Iowa. These include Tackling Data, Visualize This, and Disaggregate It!—A Health Equity Data Training.
Dr. Deshpande was the consultant epidemiologist for the Division of Chronic Disease Prevention and Health Promotion at the Missouri Department of Health and Senior Services (MDHSS) from 2000 to 2003 and an epidemiology specialist in the Communicable Disease Division at the Oklahoma State Department of Health from 1994 to 1996. She is active in several professional associations and is currently a board member of the Iowa Public Health Association (IPHA), serves on the IDPH BRFSS Advisory Committee, and is a member of the statewide Iowa Public Health Workforce Development Coalition.
<< Back to Our Consultants