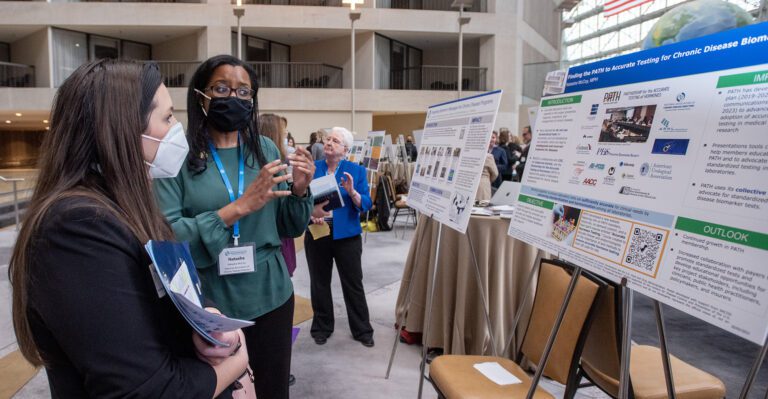 From Prevention to Transformation in Public Health: How States Advance Social Determinants of Health to Improve Equity and Social Justice
The 7th Annual Public Health Programs Success Showcase, "From Prevention to Transformation in Public Health: How States Advance Social Determinants of Health to Improve Equity and Social Justice," was held on Feb. 2, 2023 at the Omni Atlanta Hotel at CNN Center in Atlanta. The Showcase featured more than 60 projects from our program portfolio.
View posters from the event below.
Leslie Best, Lead Consultant
This project adapts chronic disease risk reduction messages to include information about how behaviors related to these topics can also reduce the risk for cognitive decline. Guided by a Steering Committee of national experts in aging, public health, communications, and health equity, this project supports the Healthy Brain Initiative Road Map call to action to integrate best available evidence about brain health and cognitive decline risk factors into existing health communications that promote health and chronic disease management for people across the lifespan.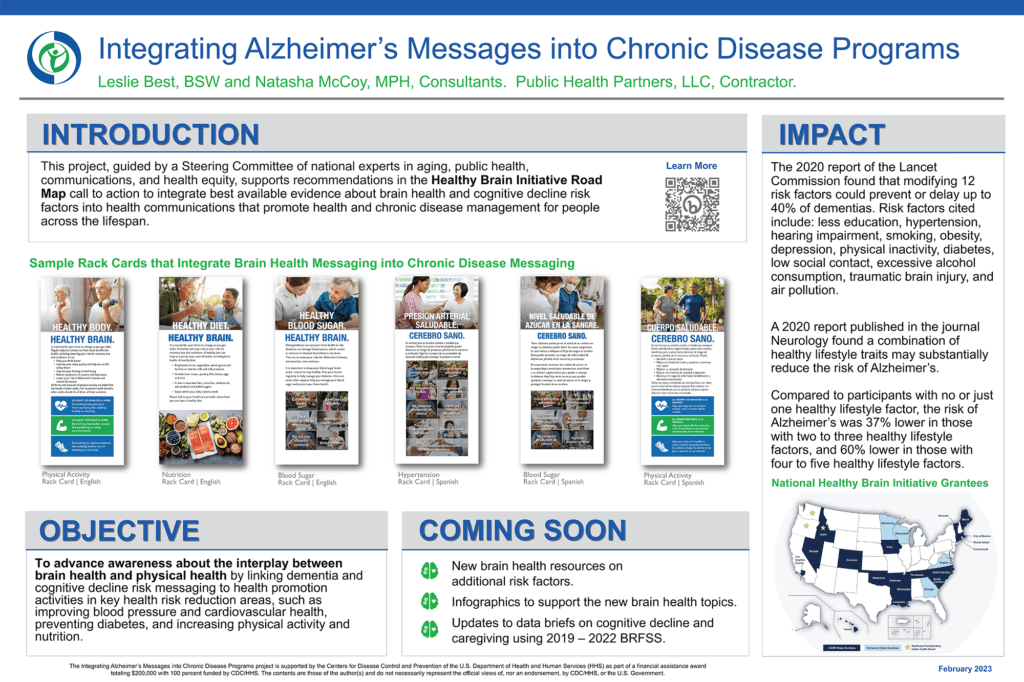 Natasha McCoy, Senior Public Health Consultant
Accurate laboratory tests are essential for the proper prevention, diagnosis, treatment, and management of chronic diseases. The "PATH to Accurate Testing for Chronic Disease Biomarkers" poster provides an introduction and brief overview of the project's objective, impact, and future opportunities for the Partnership to Improve Laboratory Measurements of Chronic Disease Biomarkers project.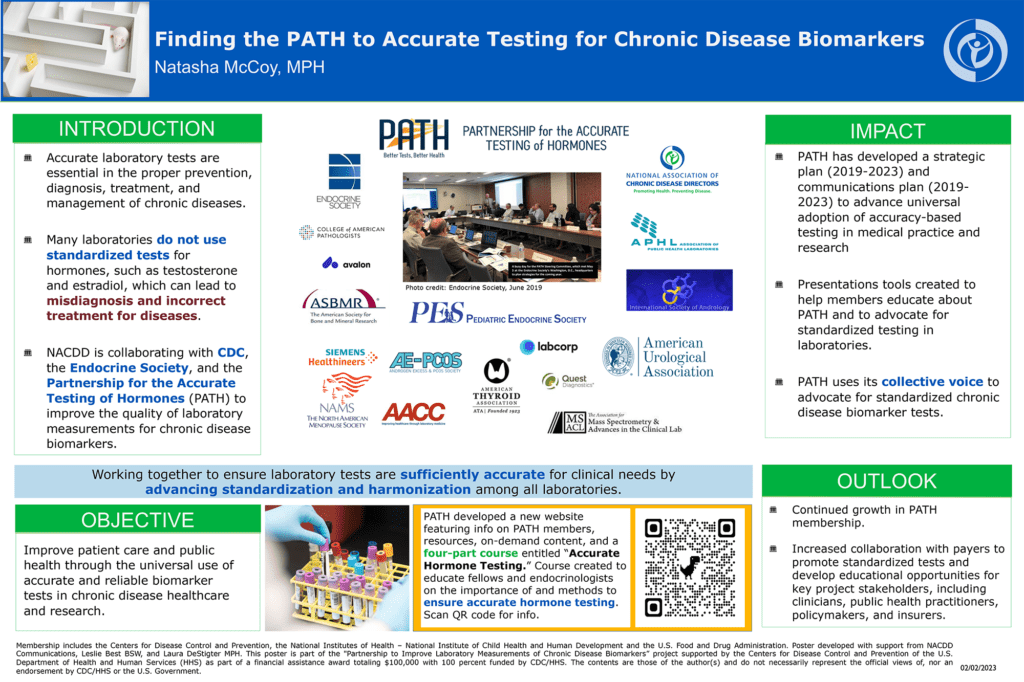 Susan Svencer
Julia Schneider
Laura Warner
This poster provides an overview of the partnership between the NACDD Cardiovascular Health team and Million Hearts. Projects have spanned the past several years and continue to evolve to meet the changing needs of the landscape and partners, including the Million Hearts Hospitals and Health Systems Recognition program, Hypertension Control Champions, and the Cardiac Rehabilitation Think Tank. Most recently the partnership expanded with the addition of the Million Hearts Health Equity Implementation project, which is currently funding six organizations implementing Million Hearts strategies among priority populations.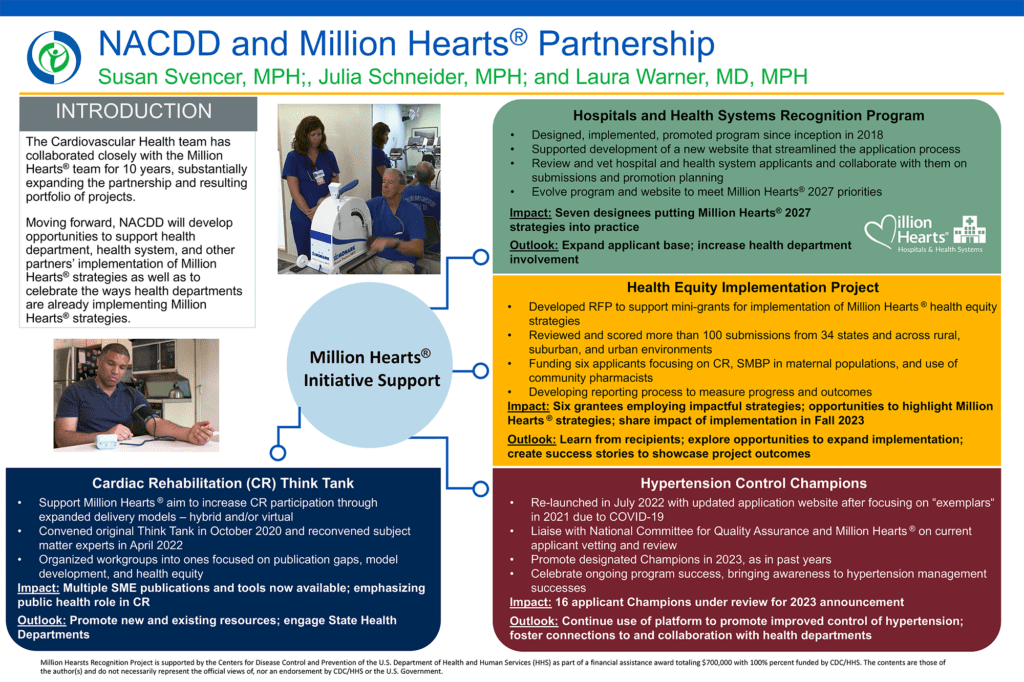 Miriam Patanian
Julia Schneider
The CVH Initiative aims to do the following among State and Local Health Departments:
Support training
Identify learning opportunities
Facilitate meaningful connections
Provide the cardiovascular health perspective to other NACDD councils, CDC leadership, and national partners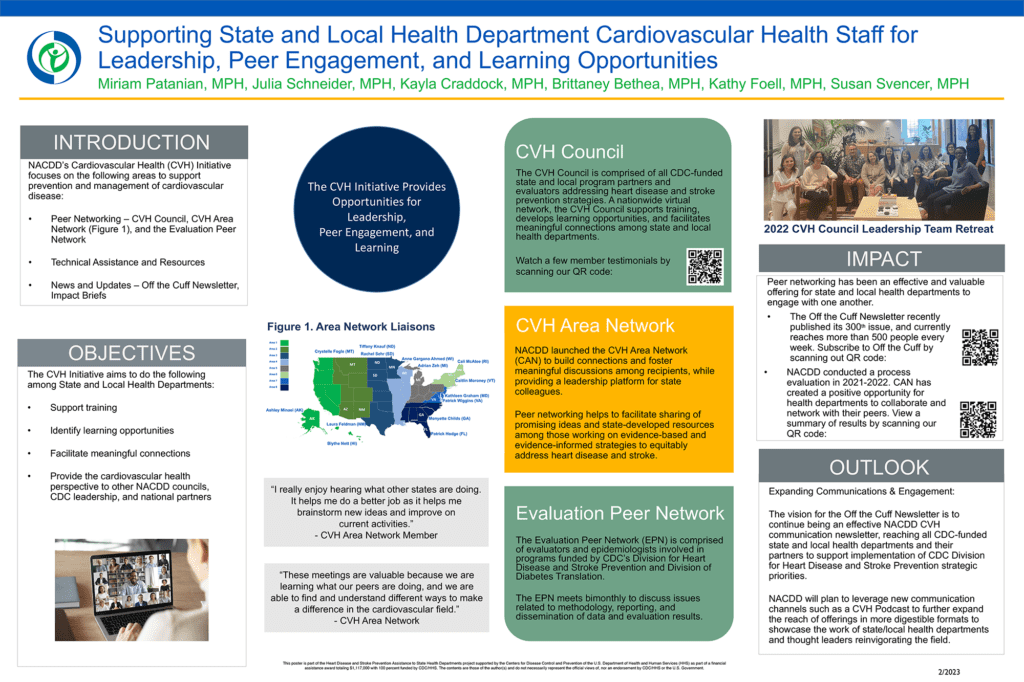 Center for Advancing Healthy Communities
Center for Public Health Leadership
Barbara Park, Public Health Consultant
This poster describes the partnership between NACDD, KDH Research and Communication, and CDC's Division of Oral Health to create a partnership engagement strategy and 'brand' for promoting the National Action Framework for medical-dental integration that NACDD has been working on for the past 2-1/2 years.