Impact Brief October 2021
To address the increasing demand to support organizations that are delivering the National Diabetes Prevention The National Diabetes Prevention Program (National DPP) lifestyle change program continues to grow and expand, and as a result, there is an increasing demand for support for organizations delivering the National DPP. To meet this need, NACDD, in collaboration with CDC and Emory University Diabetes Technical Assistance and Training Center (DTTAC) have been working for two years to develop and implement training for State Quality Specialists. This training is creating a national workforce of public health professionals at State Health Departments who upon completion of the requisites become National DPP State Quality Specialists (SQS). A year after this work began, CDC and NACDD recognized this same need existed to support diabetes self-management education and support (DSMES) services and thus created a training for State Health Department staff to become DSMES State Specialists. Quarterly network calls for both National DPP SQS and DSMES State Specialists will provide additional training and support. The following information describes some features of both trainings.
National DPP State Quality Specialist
Develops the knowledge and skills to provide high-quality technical assistance to partners, recognized organizations, and lifestyle coaches offering the National DPP lifestyle change program
Includes an interactive, rigorous, and comprehensive four-session training series
Includes four onboarding peer calls where each participant presents an individual case study demonstrating the ability to handle various technical assistance challenges
In 2020-2021 28 participants in 3 cohorts representing 23 states completed the National DPP SQS training. The training will be offered again November 2021 and in spring 2022. When asked what excited participants about the training and SQS Network, one replied:

"Learning from my other state colleagues and helping to elevate the number and quality of programs in our state."
DSMES State Specialist
Works collaboratively with CDC to create and implement the DSMES State Specialist training
Focuses on the National Standards for DSMES, diabetes self-management training that is reimbursed by the Centers for Medicare and Medicaid, and ideas to increase enrollment and sustainability
Delivers the interactive training which is designed to support learners of all types with activities that are visual, auditory, and kinesthetic
In 2021 26 participants in 2 cohorts completed DSMES training: 24 state staff, plus 2 others from a city and county. The training will be offered again in spring and summer 2022. When asked what participants thought about the training, one replied: "Great training! Learned a lot and shed a lot of light on navigating the world of DSMES."
Trained Diabetes Prevention and Management Specialists by State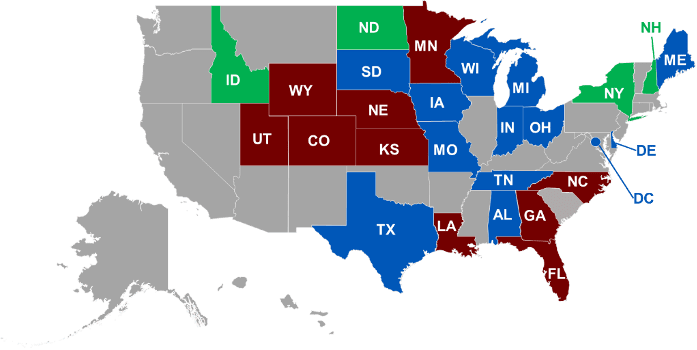 Map Legend
Both DSMES State Specialist and National DPP State Quality Specialist
National DPP State Quality Specialist (red on map)
DSMES State Specialist
For more information about the National DPP SQS training, contact Trish Herrmann. Contact April Reese for more information about the DSMES State Specialist training. Both can be reached at nacdd.diabetes@chronicdisease.org.