GIS Capacity Building Project Makes A Difference
James Peacock, PhD, MPH, Epidemiologist Supervisor Senior of the Cardiovascular Health Unit, Minnesota Department of Health, describes how the development of GIS capacity has contributed to improved chronic disease prevention programs, partnerships, and policies.
Paul Meddaugh, MS, Public Health Analyst of the Research, Evaluation and Epidemiology Unit at the Vermont Department of Health, explains how GIS has helped to address complicated public health questions and influence chronic disease prevention decision-making and communications.
John Robitscher, MPH, Chief Executive Officer of the National Association of Chronic Disease Directors (NACDD), explains how GIS fits with NACDD's strategic direction to improve chronic disease surveillance systems and examine upstream factors that affect health.
GIS Training
We have an exciting array of GIS training opportunities for state and local health department staff from Sept. 2020 to July 2021. To learn more about the sessions and register, click here to be directed to the Children's Environmental Health Initiative at University of Notre Dame.
The GIS Capacity Building Project includes several forms of GIS training (webinars and on-line modules), ongoing support from expert GIS analysts, development of new GIS tools to support mapping at the local level, and networking among health department staff interested in using GIS to address chronic disease.
All training opportunities will be offered virtually until further notice.
Training will include didactic sessions, hands-on exercises, access to GIS experts, and the completion of map projects.
Staff from 44 state and 32 local health departments have participated in the GIS Capacity Building training program, focused on building GIS capacity for the surveillance and prevention of heart disease, stroke and other chronic diseases to:
Document geographic disparities in chronic diseases.

Strengthen community partnerships.

Inform chronic disease policies and program development.

Facilitate collaboration among chronic disease units within a health department.
An evaluation was conducted in 2017 and 2018 in to assess the quality of the GIS training and examine how health departments are using their new GIS skills. Results from the evaluation have been used to inform planning of GIS training and GIS Network opportunities.
Participating State Health Departments
2018-2019 Kansas, Texas, Florida, Pennsylvania
2016-2017 Hawaii, Maryland, Minnesota, New York
2015-2016 Alaska, Arizona, North Dakota, West Virginia
2014-2015 Washington, Nevada, Virginia, Georgia, Kentucky
2013-2014 Vermont, Kansas, New Mexico, California, South Dakota
2012-2013 Florida, Ohio, Oklahoma, Pennsylvania, South Carolina
2011-2012 Iowa, Mississippi, Nebraska, New Hampshire, Texas, Wisconsin:
2010-2011 Utah, Minnesota, Massachusetts, Montana, Arkansas, North Carolina
2009-2010 Colorado, Michigan
Participating Local Health Departments
2015-2016 California: Napa, San Joaquin, Solano; North Carolina: Alamance, Caswell, Chatham, Durham, Guilford, Orange
2014-2015 Colorado: Denver, TriCounty; Ohio: Cleveland, Cuyahoga, Lake; PA: Erie
2012-2013 Massachusetts: Boston, Cambridge; Minnesota: Hennepin, Washington; New York: Rockland
2011-2012 Michigan: Delta, Menominee; Montana: RiverStone
In 2017, CDC, NACDD, and CEHI launched a thematic GIS training for State Health Departments: Using GIS to Address Blood Pressure Medication Adherence. Two representatives from each participating health department took part in the trainings. These trainings included attending 2.5 days of in-person training at Rice University and an interactive webinar during which participants presented their maps on blood pressure medication adherence and their plans for using their maps. As a result of the training, participating states have used GIS to address the unique aspects of blood pressure medication adherence in their communities and have followed an Identify-Assess-Act framework for using their maps to inform policies and programs and to enhance partnerships.
In total, staff from 12 State Health Departments were selected to participate in this training in 2017 and 2018. View maps developed during the 2017 GIS training here and during the 2018 GIS training here.
Webinar-Based Training
Since 2017, CDC, NACDD and CEHI have collaborated to provide web-based trainings to meet the GIS training needs of chronic disease prevention professionals in state and local health departments. These are typically 10-day webinar-based GIS trainings which include lectures with hands on activities, technical Q & A sessions, homework assignments, and group discussions.
Topics of the webinar-based trainings have included:
Mapping the National Plan and Provider Enumeration System (NPPES)
Understanding geographic access through proximity based analyses
An iterative approach to map design
Introduction to ArcGIS Pro and ArcGIS Online
Introduction to the Rate Stabilizing Tool (RST)
CDC, NACDD and CEHI have offered this course multiple times due to high demand. In this one-week intensive, web-based GIS training course, participants learned how to manage a map project and symbolize data in ArcGIS Pro. They also explored the ways ArcGIS Pro works with ArcGIS Online to assist map creation and sharing. As of July 2019, staff from 21 state and 17 local health departments have participated in the webinar-based Introduction to ArcGIS and ArcGIS Pro trainings.
Two virtual trainings on the Rate Stabilizing Tool (RST), an ArcGIS-based tool developed by staff from CDC, CEHI, and NACDD, were offered in 2019. The RST was developed to meet the growing demand for high quality data at the local level. The RST enables users to generate reliable, local-level age-standardized measures of chronic disease or other population health outcomes from their own data. During these trainings, participants learned to use the RST with data, to generate results, and to interpret and map the results. Participants from 33 state and 15 local health departments have participated in these trainings as of July 2019.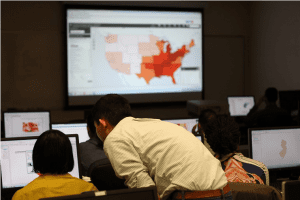 The Rate Stabilizer Tool produces age-adjusted and spatially smoothed rate estimates from record-level data and indicates which rates are considered statistically reliable. This tool is particularly important for generating estimates when the population size or the number of events is small. With the RST, estimates can be generated for a wide range of geographic units, including subcounty levels. With its ease of use, the RST addresses the need to produce stable local estimates of chronic disease measures to improve chronic disease surveillance, prevention, and treatment. Key Features of the Rate Stabilizing Tool are:
Developed in response to increasing demand for small area measures of chronic disease.
Uses Bayesian spatial smoothing models to generate robust small area estimates at the county and sub-county levels.
Produces measures of statistical uncertainty (i.e., credible intervals) for each estimate that is generated.
How GIS Has Helped Health Departments Working in Chronic Disease Prevention
"GIS brings a whole new meaning to data-informed decision-making. It allows my program and its partners to interpret data easily while gaining insight on multiple factors at once – factors such as gaps, reach, population characteristics, and assets. It's great and powerful!"

Shelby Vadjunec
Wisconsin Department of Health Services
"Visual representation really helped to connect with partners. When people can see their local community on the map and how it's impacted, it resonates a lot better with partners and they get more engaged with the information. It really helps to jumpstart the conversation."

Jesse Tran
North Dakota Department of Health
"People in public health have a large portfolio of work. GIS can help make that work more manageable, more effective, and more meaningful."

Marie Lynn Miranda
Rice University
"A picture is worth a thousand words and GIS enables us to take a thousand numbers and make it into a picture."

Stan Shanedling
Minnesota Department of Health
Sustaining and Expanding Chronic Disease GIS Capacity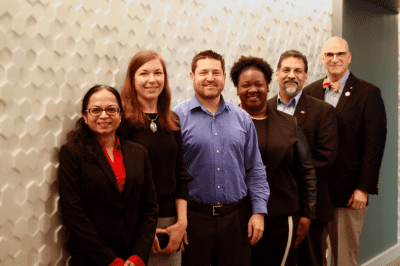 Sustaining and expanding GIS capacity within State Health Departments has emerged as an essential priority. To address these priority areas, a Chronic Disease Director component was added to the 2019 GIS Training for Surveillance of Heart Disease, Stroke, and Other Chronic Diseases in State Health Departments program. Chronic Disease Directors from the four State Health Departments selected to participate in the training (Florida, Kansas, Pennsylvania, and Texas) attended a one-day session entitled "Developing Your State's Chronic Disease GIS Capacity." This session was focused on assisting State Health Department leaders to build and sustain GIS capacity and staff development for GIS-related Chronic Disease Competencies. The Chronic Disease Director component focused on how GIS aligns with priorities of CDC-RFAs DP18-1815, DP18-1817, and Million Hearts® as it significantly enhances the capacity of State Health Departments to design and implement programs focused on heart disease and stroke prevention.
Working with the Chronic Disease Directors, the guidance team members from CDC, NACDD, and CEHI developed a set of GIS Hallmarks that describe the components needed to support the integration of GIS into daily operations within the health department.
The GIS Hallmarks, endorsed by NACDD's Cardiovascular Health Council, address a variety of topics and issues that fall within the purview of Chronic Disease Directors and their colleagues, such as:
developing a GIS-savvy workforce,
using GIS to improve partnerships and relationships,
using GIS to address health equity and social determinants of health, and
providing financial and administrative resources to support the use of GIS with chronic disease prevention and health promotion programs.
View an infographic about the GIS Hallmarks. View slides about the GIS Hallmarks that were presented at the NACDD Virtual Public Health Showcase 2020.
For more information on the GIS Hallmarks and Chronic Disease Director opportunities, please contact MaryCatherine Jones by clicking the button below.
Staff from Minnesota and Vermont were selected to participate in the 2019 GIS Translation and Dissemination Capacity Building for State Health Departments. The goal of this project was to increase State Health Department capacity to incorporate GIS and maps into translation material, such as infographics and slide decks, and coordinate dissemination plans with partners to inform policies and programs related to medication adherence for high blood pressure. The GIS Translation and Dissemination initiative addressed four key areas related to blood pressure medication adherence:
documenting existing geographic disparities in blood pressure medication adherence;
identifying gaps in clinical, community, and public health services that are important for supporting blood pressure medication adherence;
providing a basis for informing programs and policies related to blood pressure medication adherence; and,
enhancing existing partnerships and facilitating new partnerships among pharmacists, physicians, hospitals, public health clinics, community health workers, and other health systems and health care organizations.
Staff from the Vermont Department of Health worked with stakeholders to increase the number of pharmacies that provide medication synchronization (med synch) and the Appointment Based Model (ABM) to Vermonters, especially in high burden populations. The Minnesota State Health Department team worked with their partners to increase the availability of pharmacist-provided Medication Therapy Management for Medicaid recipients. Teams from both states worked with CDC, NACDD, and CEHI in the development and dissemination of translation products that incorporate maps and other GIS techniques to enhance medication adherence. For questions about the GIS Translation and Dissemination project, please contact Hannah Herold.
Chronic Disease GIS Network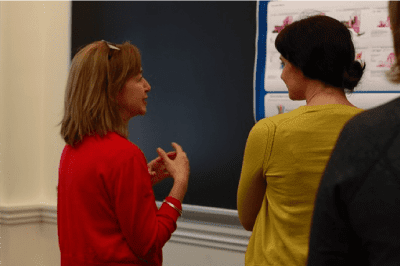 The Chronic Disease GIS Network promotes the exchange of GIS information and resources and engages more than 350 staff using GIS in state and local health departments. Through this GIS Network, CDC, NACDD and CEHI share GIS resources, tools and training opportunities with members. The GIS Network provides participants with opportunities to share how they are using GIS, learn about GIS-related efforts of national partners, and contribute ideas and training needs to the CDC, NACDD and CEHI team.
NACDD GIS News and Updates
The NACDD GIS News and Events page is updated regularly with information about training and educational opportunities, including RFAs and web-based trainings for state and local health department staff interested in using GIS for chronic disease prevention.
CDC Interactive Atlas of Heart Disease and Stroke
The Interactive Atlas of Heart Disease and Stroke is an online mapping tool that allows users to create and customize county-level maps of heart disease and stroke by race and ethnicity, gender, and age group.
CDC Heart Disease and Stroke Map Widget
The Heart Disease and Stroke Map Widget is an application allowing data from the Interactive Atlas of Heart Disease and Stroke to be presented directly on your website. Data presented through the widget automatically updates, ensuring that the data presented on your website is always the most current data the CDC has available.
CDC Chronic Disease GIS Exchange
An online forum for sharing maps and GIS-related resources for chronic disease prevention.
CDC Map Gallery For Chronic Disease Maps
A virtual gallery of maps that address chronic diseases and have been created by state and local health department professionals from across the country.
Rate Stabilizing Tool
An ArcGIS-based tool that allows users to input their own record-level data to generate reliable, local-level age-standardized measures of chronic disease (e.g., prevalence, incidence, and mortality) or other population health outcomes.