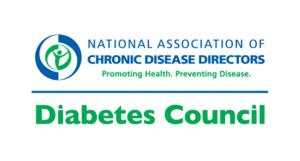 The Diabetes Council includes more than 250 Members from State Health Departments and the District of Columbia who work on diabetes initiatives. The Council connects State Health Departments across the nation for the purpose of implementing diabetes prevention and management strategies. NACDD and CDC work collaboratively to help ensure that Diabetes Council activities align with national objectives. Members who become actively involved in the Diabetes Council benefit from access to networking, training, and other opportunities that support implementation of diabetes objectives.
The Diabetes Council is led by the Leadership Group, an elected body of State Health Department diabetes staff. The Leadership Group is a bridge between CDC and State Health Departments, making it easier for states to fulfill grant requirements and achieve success. Their collective voice for change enables them to advocate on behalf of State Health Departments, connect colleagues across the country, and inspire strategic direction for diabetes prevention and management. Together, NACDD and CDC provide guidance, foster leadership, and enable the Leadership Group to set and achieve goals that benefit diabetes-related public health efforts nationwide.
Become an Active Member of the Diabetes Council
State Health Department staff working in diabetes-related areas are automatically members of the Diabetes Council. Contact any of your elected leaders to learn how to become an active member of the Diabetes Council, including participating on workgroups or running for elected Leadership Group positions. Benefits of being an active member of the Council include:
Leadership and professional development opportunities
National webinars on emerging topics
Mentoring opportunities for guides and learners
Learning communities to exchange ideas with peers in other states
Travel scholarships to attend workshops and conferences
Networking with colleagues from across the United States
In 2020, Leaders shared their experiences of the value that participating in Diabetes Council activities has brought to them and their work.
Learn More About the Diabetes Council and the Diabetes Council Leadership Group