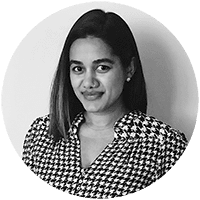 Vishwarupa (Vish) Vasani, MPH
Associate Director of Community and Environmental Health
Vishwarupa (Vish) Vasani, MPH, comes to NACDD from YMCA of the USA. As a Technical Advisor, she provided training and technical assistance to local YMCAs in the delivery of evidence-based chronic disease prevention and management programs to ensure adherence to program standards, contract terms, and other performance requirements.
Prior to that role, she was a Public Health Specialist for five years with the City of Minneapolis Health Department. There, she coordinated the development and implementation of various strategies designed to improve access to healthy eating, active living, and chronic disease prevention and management opportunities for all Minneapolis residents, particularly in low-income communities and communities of color. Her two greatest achievements were developing and leading the city's first healthier beverage initiative (ReThink Your Drink, Every Sip Counts) and working with the Minneapolis Public Housing Authority to create onsite systems for residents in high-rises to eat healthy, be active, and prevent and/or manage diabetes and hypertension.
She also completed a three-year Public Health Prevention Service fellowship with the Centers for Disease Control and Prevention, where she worked in the Division of Nutrition, Physical Activity, and Obesity and the Division of STD Prevention. Vasani originally is from San Diego and currently resides in Detroit with her husband.