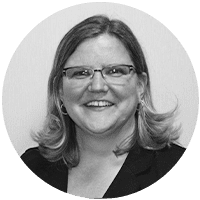 Lea Susan Ojamaa, MPH
Massachusetts, At Large Director
Lea Susan Ojamaa, MPH, is a Deputy Director for the Bureau of Community Health and Prevention at the Massachusetts Department of Public Health. In this position she provides strategic leadership and management to the Prevention and Wellness Branch of the Bureau.
Within the branch are the Divisions of Community Health Planning and Engagement, Health Protection and Promotion, Clinical Preventive Services as well as the Massachusetts Tobacco Cessation and Prevention Program. Programs include asthma, breast, cervical, colorectal and comprehensive cancer, diabetes, heart disease and stroke, overweight/obesity, tobacco cessation and prevention, oral health, occupational health, rural health, primary care workforce, community health workers, Mass in Motion, and healthy community design initiatives.
Lea Susan has held various positions since coming to the Department in 2000, including direct work in tobacco prevention and healthy communities. She has been in a leadership position since 2011 and took on the role of Chronic Disease Director for Massachusetts in 2013. As a Senior Manager in the Department, Lea Susan currently represents the Department on the MA Food Policy Council as well as the MA Healthy Aging Collaborative Executive Committee.
Lea Susan is very committed to public health as social justice and has been pleased to have the opportunity to be part of a team at the Department working to move strategies upstream to address root causes of health inequities and the social determinants of health. Lea Susan actively works with her team to bring a leading with race and racism framework to all prevention and wellness activities. Creating healthy and more equitable communities is what brought and keeps Lea Susan in public health.