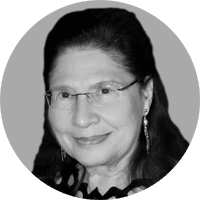 Adeline M. Yerkes has many years of experience in the field of community health. For 25 years, she served as the Director of Chronic Disease for the Oklahoma State Department of Health. During her tenure with the State Health Department, she served as the Oklahoma Liaison for Women's Health, reporting to the United States DHHS Office on women's health.
In 2008, Adeline established her own business, AMY Consulting, LLC, and focused on issues of women's health and health systems assessment with tribal nations as well as consulted for the National Association of Chronic Disease Directors (NACDD). As an NACDD consultant, she has provided technical assistance and expertise for a number of projects to raise awareness about gestational diabetes, cancer, and middle-aged and aging population health. Adeline also has assisted NACDD on various committees, such as the Learning and Professional Development Advisory Group, Group 59, and the Professional Development Committee.
Adeline was a founding member of NACDD and served as its Treasurer, President, and a Member of the Board of Directors from 1988 through 2007.
She was appointed to the Oklahoma Commission on Status of Women in 2009 through 2014. Currently, she is serving as the Chair of the Community Advisory Committee, a 60-member group of subject matter experts who advise and focus their efforts for the Commission on contemporary issues such as mental health, older adult health, substance abuse, human trafficking, and domestic violence, through community conversations, webinars, and a virtual environment exchange.
Along with her other duties, Adeline serves as a board member for the Central Oklahoma Health Alliance for Uninsured; an officer with the Central Oklahoma Classic Chevy Club, a church elder, and a health advisor for Oklahoma City's YWCA.
Adeline has a nursing degree and advanced degrees in educational counseling for special needs children and public health. In her spare time, she enjoys cruising with her husband in their classic automobiles. Adeline makes numerous trips to Texas with her husband to share the joys of being grandparents for three great kids — an equestrian, a football/baseball player and a gymnast/cheerleader.
<< Back to Our Consultants